SPEAKERS
Curated & Moderated by:
Anna-Kynthia Bousdoukou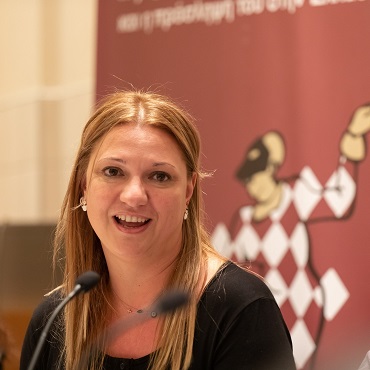 Irene Moundraki
Dramaturg, Head of Drama, Library, Archive & International Relations Departments National Theatre of Greece
Irene Moundraki obtained a BA, a MA and a PhD in Theatre Studies from the University of Athens (Faculty of Theatre Studies). She also studied Arts at the University of Milan, Italy. She is head of Drama, Library, Archive and International Collaborations Departments of the National Theatre of Greece. She is visiting professor at the Departments of Theatre Studies of the Universities of Athens and Peloponnese. She is the founder and head of the Greek Play Project (www.greek-theatre.gr) a dynamic platform for the promotion and study of contemporary Greek theatre. She is Vice President of the Hellenic Association of Theatre and Performing Arts Critics.
Photo credit: Patroklos Skafidas
Theater does not simply reflect the ideas of philosophy, but also raises big questions that concern humankind and, I think, will always concern it.